$

20.00
JOURNAL OA+D V10:N2 :: COMING SOON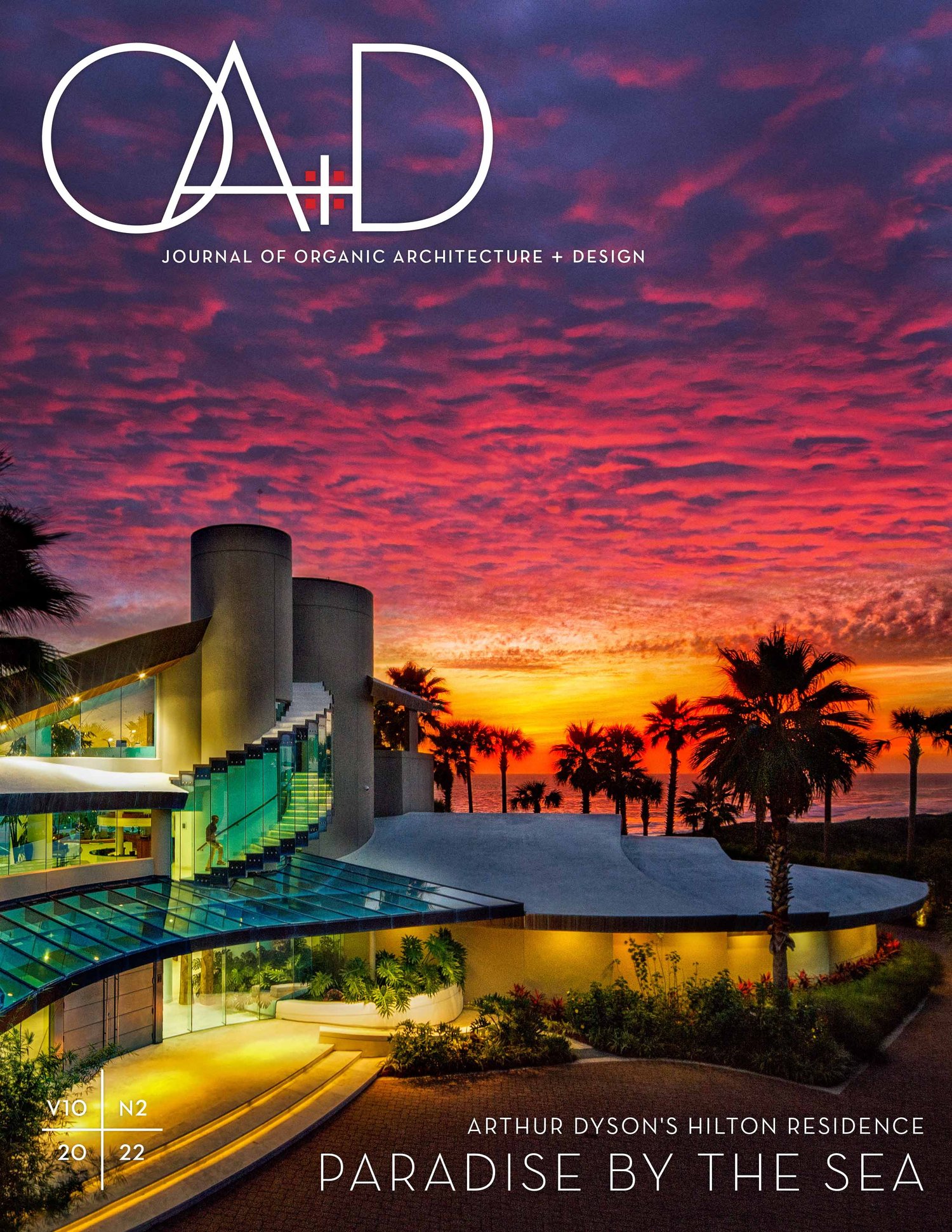 JOURNAL OF
ORGANIC ARCHITECTURE + DESIGN
VOL. 10 / NO. 2
COMING SOON
ARTHUR DYSON'S HILTON RESIDENCE :: PARADISE BY THE SEA
Essay by Mark Hammons
The Autumn 2022 issue of the Journal OA+D is currently in production and will be printing very soon. The full-color issue will feature one of architect Arthur Dyson's most exceptional works, The Hilton Residence.
Working under the auspices of three major figures of American Architecture — Frank Lloyd Wright, William Gray Purcell, and Bruce Goff — and across more than five decades of professional practice, Art Dyson has remained unswervingly committed to the belief that architectural design is one of the most potently enduring means to improve the quality of human experience. Since establishing his private practice in 1969 and in 1992 a partnership to support larger commercial and institutional commissions, Art has produced designs for private residences at all scales, diverse religious structures, K-12 educational campuses, multiple public libraries, health care and social service centers, hotels, corporate offices, performing arts centers and other cultural venues, and public transportation hubs.
One of the most compelling of his many designs is the seaside residence he created for Charles and Lela Hilton in Alys Bach, Florida (completed 2001). The design solution for this large private residence is rooted in the desire of the client for strong statement in creative architectural form and the demanding conditions of the site. In both business and personal focus, the life patterns of the client are deeply enveloped by the ambience of the Florida seashore, and everything in their program emphasized fluidity of movement.
With an essay by author and historian Mark Hammons, the issue will feature an abundance of stunning color photos by David Swann that detail this exceptional work of organic architecture inside and out.
This issue will be mailing out to subscribers by the end of August/beginning of September 2022. If your subscription has lapsed be sure to renew to make sure you get one of the first copies available.
Contact us with other questions at info@oadarchives.org.